Dear
Donk
,
I remembered today why I haven't used the grommet puncher in over five years - it sucks ass.
Beware - if you're using one like this: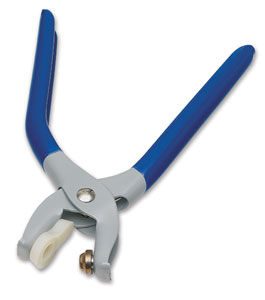 be prepared for bone crushing pain as you squeeze those handles together with all your might trying to get the male grommet to curl neatly around the female grommet.
It sounds romantic, but I assure you it's not. Unless your idea of romantic involves a lot of swearing and a 28 year old woman throwing a tantrum.
I had to ask Bubba for his man strength on this one. Of course, the grommet puncher was no match for the likes of his man-paws, which is just another reason to love him.
Just a little heads up that you might want to offer a margarita to any hot dudes walking by your apt in exchange for a few strong squeezes.
Sexy.
xo
Finny