We got back into town last night after dark, so I held off going out to the garden until this morning to see just what the hell it had been up to all unsupervised for three days and I think you know exactly what it did.
BOOM.
Cucumbers BOOM.
Tomatoes BOOM.
Potatoes BOOM.
Beans BOOM.
Melons BOOM.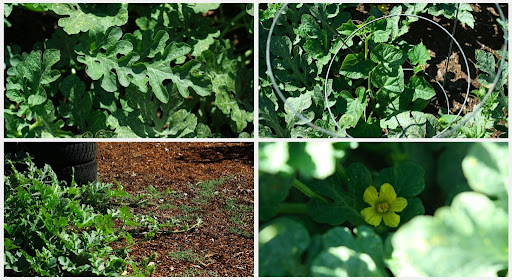 Tomatillos BOOM.
Totally volunteer to the point where I don't even water it Sunflower BOOM.
Apples BOOM.
Thankfully, the cilantro has not yet gone boom, but it is producing and, since the jalapenos are producing as well and the farmshare keeps giving us onions, I will be making a small batch of salsa verde because the tomatillos are slightly BOOMing and I have a few rolling around in the crisper awaiting their first attempt at salsa.
Of all the booming going on (OK, I'm going to stop saying that word now. It's getting creepy.), the jelly melons are probably the most exciting to have doing anything because you know it's been really quiet in the jelly melon department so far.
I wonder what a jelly melon department would look like? Anyway.
Tiny green leaves are the jelly melon. The rest? It's the Moon and Stars watermelon. Yikes.
Before we left town, I gave the newly burgeoning jelly melon its own cage to climb up, since the johnny-come-lately-because-I-freaked-and-bought-a-melon-seedling Moon and Stars watermelon has gone hog wild and taken over the whole bed even though it wasn't supposed to be in there at all.
Spotted leaves are the Moon and Stars watermelon and solid green leaves are the Rattlesnake.
And this is what I get for being a spaz and buying one teeny Moon and Stars watermelon seedling because I thought all my melon seeds were going to be complete failures.
The watermelons have left the building.
Specifically, I get a Moon and Stars watermelon that wants it all. And by, "all", I mean - the yard, our house and the moon and all the stars.
GREEDY BASTARD.
Oh, and before I forget, before I left, I made the first batch of pickles for the season and, well, YUM.
I just ate that big fattie on the top there. PUCKER. Good.
What? Don't you eat dill pickles for breakfast after a roadtrip?
I'll never understand you.