Hey
Donk
,
Somehow I made it to July without trying out
that other tank pattern
, but I just want to put it on the record that the only reason I didn't make it was because I ran out of bias tape on
the first one
and I think you know that I'm not making bias tape even though I have one of those
OH IT'S SO EASY TO USE bias tape maker gadgets
because IT'S STILL A PAIN IN THE ASS.
Right.
So, I still want to make that tank because I have the perfect fabric for it, but alas, it waits. I must procure bias tape. Which means I must get over to my favorite sewing shop so that I may finger all the tapes. Of course, I could just be
buying them online
, but somehow that's alluded me until now.
Whatever!
It's a new month, or months rather, and so we have new projects and a recipe to de-stash your fridge/garden.
Which, OH MUTHER, do I need right now. Geesh.
Our farmshare and my garden are conspiring to bury me beneath strawberries. Which isn't the worst thing that could happen I suppose, unless you're buried under there for more than, say, a day, at which time it would become The Worst because ew.
How can something so tasty smell so foul after just a few hours at room temp? Seriously, that's gnarliness. And sort of incredible.
Anyway, I have a recipe for that and you have two new projects and before we go too much farther into this rambling post,
we have a winner from May and June!
okgirl2010
made a perfect rendition of the pintucked top and then, because she's obviously aware of my soft spot for WTness, staged her final photos to play into my weakness what with the plastic hanger and all.
For the record, SHE called it WT, not me.
Originally anyway.
Nicely played, friend. Now send me your mailing address to finnyknitsATgmailDOTcom and I'll send you a prize worthy of your great WTness.
And for those of you waiting beneath a pile of strawberries for salvation - here's
your recipe:
Strawberry Salad
Recipe by moi
Makes 6 servings
Ingredients
2 bunches of loose leaf lettuce, washed and chopped (about 6 cups)
1 pint of strawberries, hulled and sliced
1/2 c pecans, chopped
1/4 cup Parmesan, sliced thin
4 T champagne vinegar (or other mild white vinegar)
3 T olive oil
Salt and pepper to your taste
Pile the strawberries, pecans and Parmesan on top of the salad greens, pour the dressing over the top and toss.
And, it sounds like Kelli's chosen Elodie the Elephant and
someone's
(
mine
- I'm very subtle AND modest) Not-Ugly Car Trash Bag for
this month's projects.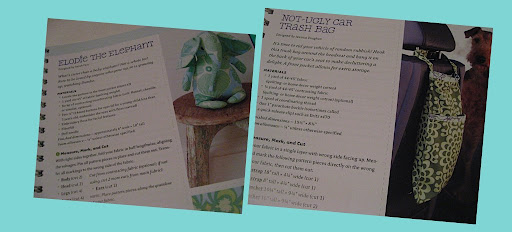 So, there's that.
We've got two months until
photo pool time (meaning upload your photos by August 31st)
, so get to making and either amusing a child (or yourself? Do you still have stuffed animals on your bed? Is that awkward when you bring home a dude? Just saying.) or cleaning out your trashy car.
Not that you necessarily have a trashy car, but if I get in there and have to kick cigarette boxes or old tissues out of the way to sit down, I'm going to have to advise you on your car's trashiness status.
I'll be watching you.
OH! And I nearly forgot - if YOU forget what projects and recipes we've got going for the month(s), I added
a Sew Alongs tab
to the top bar of my blog, so you can just real quick like go over there and see what we're supposed to be doing. And there's a link to the photo pool and everything for, like, quick reference and whatnot.
What's not there, however, are all the details from all of the sew alongs Kelli and I have done. Yet. I'm working on it.
Now go clean out your car.
xo
Finny